How to Dominate Free Sex Dating Sites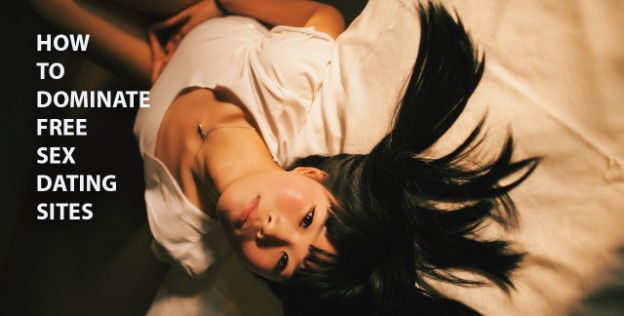 To fail is to learn, right? Considering your using one of our free sex dating sites, you paid nothing.
So really, what's the harm in failing?
In a way, not much. It's a risk-free free sex dating experience.
But from another perspective, it means you wasted valuable time. This is precious time you could have used for fucking a hot blonde, or maybe even hooking up a glorious three-way. Failure, even in the adult hookup market, is part of the game. But you can reduce it substantially by understanding how to dominate free sex dating sites, like Adult Dates.
Let's explore how you can change your fortune by deploying a few simple tactics.
Don't Waste Time
The point of Adult Dates and other free sex dating sites, simply stated, is the expenditure of less time. In this case, less is most definitely more.
If you're burning the midnight oil browsing and messaging local hookups, you may well have an efficiency issue.
Allow me to explain.
No adult dating site is perfect. In reality, part of our success is avoiding 'algorithms' that are intended to 'find the perfect match.' We don't want that kind of data, nor do we want to limit your success potential.
Who are we, or anyone, to decide who you should fuck?
If you are burning hours upon hours per night, you're approaching this adult dating thing all wrong. Your experience should be exactly the opposite. We aren't eHarmony, we don't need your DNA to proceed in hooking you up with local hotties.
To become more efficient, start looking for time wastes. For example, don't continually message girls that don't respond, or especially ones that tell you they aren't interested. The latter should be obvious, but the former is sometimes misplayed.
Yes, some girls miss your messages, or don't give you a decent chance at first. It's OK to follow up and get your pretty face back in front of them again. But after that, just move on. If they pop up in your feed in six months, sure, reconsider. But for now, don't just burn time on girls who aren't interested or maybe keep missing your messages.
Move on to greener pastures.
The joy and benefit in free sex dating sites is that the pool is endless. The bevy of sexy girls always grows. You're better off putting your energy into new girls looking for a hookup, not the ones that are ignoring your requests.
Have pride, understand the value of efficiency, and move on.
Keep Intro Messages Simple, But Not Templated
Her bio says she likes strip clubs.
You like strip clubs.
Ah, a sexy match made in adult dating heaven.
That might be true, but it doesn't mean you need to invest a novel into her.
Often, guys think that if they send long messages about themselves to a potential match they increase their chances. But long-winded messages can backfire. The more you write in the initial email, the more you risk seeming narcissistic.
Also, the more the odds are favorable that she doesn't read your message.
Long messages waste time.
But that doesn't mean you need just to fire off a bunch of curt, templated emails, either.
Adult dating is a game built on common sense.
Your message should be unique and crafted based on what you DO KNOW about her. But not overly long.
I recommend a couple of paragraphs. Always open with what you saw in her. Always close with why you're the guy she should respond to.
Shorter, more precise messages mean you message more girls with non-templated messages. This can skyrocket your chances to dominate free sex dating sites.
Don't Bromance Her
Girls on Adult Dates are looking for a good time. They might be married and looking for a fun sexual side experience. They might enjoy a freakier fucking need than any guy they've dated.
They aren't looking for fast love. They don't want to be romanced. They want to be fucked, discreetly.
Keep with the mission.
I'm not suggesting that Adult Dates members never fall in love. When the sex is ripe, there is always the potential for more.
However, if you go full romance right away, you can expect many girls not to trust you as a discreet member. They won't risk your potential to home wreck.
In the end, learn to be efficient without being a predictable shotgun messenger. Don't get hooked on a handful of girls who don't respond to you. And make sure you don't try and overly romance girls, this isn't some vanilla dating site. Girls here are down to fuck. Appease their needs.